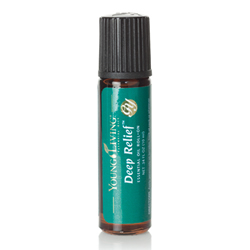 Deep Relief Roll On Essential Oil Blend 
is a proprietary blend of oils specially formulated to relieve muscle soreness and tension. Peppermint, Wintergreen, Copal, and Palo Santo essential oils as well as others play an integral part of healing in this blend. 
Deep Relief is offered in the portable convenience of a roll on application. Tension headaches, tight muscles, and overall soreness are commonalities of most adults. 
Deep Relief Essential Oil Roll-On™ offers a convenient, natural remedy to these indications. 
What makes Deep Relief a great, natural solution for muscle soreness and tension relief? Several essential oils highly regarded for supporting the body's ciruclatory and muscular systems are found in this blend. Peppermint, wintergreen, and copal are just three of the key ingredients that contribute to efficacy of Deep Relief.
My favorite use for this oil is to use it on my neck that often gets stiff from working in front of the computer. But it is fantastic for most muscle and joint challenges including sore muscles, sprains, ligaments and can be used as a natural muscle relaxer.
Definitely use it for inflammation in the back or as a muscle pain remedy. Or use it to combat tension or migraine headaches. For bone pain, use additional wintergreen or use additional helichrysum for severe pain. Use Ortho Sport Massage Oil over Deep Relief Essential Oil when muscles are very sore painful.

Ingredients: Peppermint (Mentha piperita), Balsam Fir (Abies balsamea), Clove (Syzygium aromaticum), Vetiver, Wintergreen (Gaultheria procumbes), Lemon (Citrus limon), Helichrysum (Helichrysum italicum), Copaiba (Copaifera reticulate), Coconut oil.

To learn more about essential oils and to experience the application of therapeutic grade essential oils, join one of our workshops. I also offer individual Aromatherapy consultation. To book a session, please sms 016-4525363 and I will call you back.
And please do click on our Young Living Essential Oils Link to read more about the Young Living Essential Oils. 
Choong Han Ni         Young Living Member No 1350523